Human Resource Development
Helping organizations build a culture of learning that helps people study and grow

Laying the foundation for development of human resources through personal study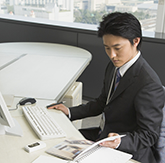 JMAM correspondence courses offer a lineup of 250 classes in 15 different fields to meet the study needs of business people throughout their careers. Having become an established and essential means of human resource development, these courses are utilized by more than 4,000 companies and groups throughout Japan and have served a cumulative total of more than 6 million correspondence students.
JMAM provides support not only for the individuals taking part in these courses, but also for organizations looking to build a culture of learning. In order to help our clients study even more effectively, our program concentrates on three specific aspects of learning-educational materials, correction/instruction, and learning administration. Designed primarily to foster improvement in the fundamentals, we offer traditional courses that address job-specific topics, in addition to courses which are useful in production and in global human resource development.

Enabling participants to help each other grow
JMAM group training is designed to fully integrate three different components-a training program fully backed by proven educational techniques, lecturers who interact directly with individual trainees to lead them to insights, and educational materials that deepen the student's understanding with each review. We facilitate training that allows the entire spectrum of employees-from the newest hires to executive level managers-to grow.
Public "business college" seminars
These public seminars help individuals learn new things and at the same time expand their perspective. Encouraging free and open discussions and generating feedback, these seminars draw participants from different industries and transcend the framework of a single company.

Evaluating the qualities of individual employees to better develop human resources
Much like medical checkups, our assessments measure the skills and evaluate the qualities of individuals at any given point in time. The first step in developing and making the most of human resources is to gain an understanding of where an organization stands through employee evaluation. JMAM assessments offer information to help the individual gain the awareness needed to grow. We also provide useful information to help personnel and training departments effectively utilize human resources. JMAM offers dozens of assessment tools to solicit diverse information utilizing the latest technology and based on the collection of data from tens of thousands of business people. This information is useful throughout the human resource development process from initial hiring through examinations for executive promotions.

Offering an environment for learning across a wide array of fields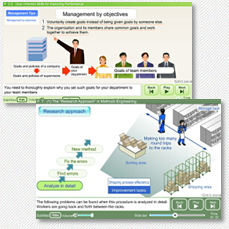 In recent years, more and more companies are taking advantage of e-learning courses as part of their in-house education programs. At JMAM, we have been developing corporate education and computer applications for in-house use since 1986. Incorporating the expertise we have gained over these years, our educational materials are utilized by a large number of corporations and groups.
Our e-Learning Library® service offers an extensive learning environment at a flat rate and is accessible online whenever and however frequently users need it. The library provides information on a wide range of fields, including compliance, mental health, tailored education for specific positions covering new hires through management, business skills, technologies, methodologies, and language learning.
[Contact Us] : contact@jmam.co.jp